NEW MANGA PUBLISHER - MANGA JOUHOU INC.
(Comicsville, April 1, 2006) - With more and more manga appearing on bookstore shelves, and rankings shooting up in the sales charts, no one can deny the fact that manga is becoming more than a cult following, it is becoming a phenomenon, and we firmly believe 2006 will be an even better year for both fans and publishers alike. With this in mind, Manganews is proud to announce its decision to enter the US manga market. We believe this is a necessary step for us to take, in order to secure a strategically important place for us in the community, and by doing so benefit both Manganews and the community as a whole.
As stated above, our new mission is to bring the highest quality of manga to the fans, from the fans. We plan to achieve our goals with the help of experienced translators and editors from scanlation groups. That's right, Manganews will be teaming up with the scanlation community as we work to bring manga to the US fans in its most original form. It's time to say goodbye to censorship and translation errors!
How will the partnership work? After each title is translated by the machine-like translators, it will go through 3-5 experienced editors, ensuring type-setting and images of the highest quality. Before going to the printing press, the title will again go through 3-4 proofreaders and quality-checkers as a final check-up.
The best part of this partnership? Not only will you find our manga in a book store near you at the very low price of $4.99 (the way it should be!), but there are also plans to distribute our titles online! With "Manga-Click!," our newest (and patented, mind you) one-click Manga download option, we will let you download the entire volume through our high-speed server (complete with black fiber packed into trucks). Transactions will be made through our secure network, and all personal information such as credit card info and search queries will be treated with the utmost security. More information will be released as the Manga-Click! option enters its beta stage in the next few weeks. So what are you waiting for, hurry and sign-up for our secure system today!
Don't like our translations? Have some problem with the our fonts? Worry not! The first 5 volumes you purchase online will come bundled with the original Japanese version (raw!) This way you can read/translate it yourself to your heart's desire. After 5 volumes, if you still wish to receive manga bundled with its original Japanese version, you will have to pay an extra $1.99 for each purchase, or 5.99 for 10 purchases.
Currently Manganews has signed contracts with the following groups, each of which will be providing their top translators, editors, and proofreaders:
| | |
| --- | --- |
| Aku-Tenshi | AT-Translations |
| Anime Waves | Beautiful Soup |
| Beyond the Sky | Boku-Tachi |
| Condensation | Datenshi Blue |
| Entropy | Fifay.net |
| Game over or Continue | Impossibility |
| Ivyscan | Izumo no Ryuu |
| JanKenPon | KEFI |
| Korean Manga Translation | Oishii-Manga |
| Omanga | Selene Scans |
| Shoujo Magic | Solaris-SVU |
| Storm in Heaven | Tama-Chan Scans |
| The Waffle House | Yanime |


Below are titles Manganews has licensed, and will be release in the next few months.

GANTZ
Mangaka: Hiroya Oku
Volume: 18
Volume 1 Release Date: June 2006
Two teenagers, Kurono Kei and Masaru Kato, die in a subway accident while trying to save a drunken man, and are transported to a room filled with people who also have recently died. In that room is a black sphere calling itself Gantz, which provides them with futuristic weapons and suits and orders them to kill aliens on Earth. From that day on, Kurono and Kato begin their battle against the aliens. The dangerous missions have a very low survival rate, and new characters tend to come and go. What is Gantz? Why are there aliens on earth?

Elfen Lied
Mangaka: Lynn Okamoto
Volume: 12
Volume 1 Release Date: June 2006
Elfen Lied, an interesting manga with some calm slice-of-life scenes - in between the blood and gore. While most certainly horror, this story does not lean on the crutch of substituting lots of violence for a good plot. With many fascinating twists and turns, the plot will keep you rooted to your seat.

School of Water Business
Mangaka: Shinobu Inokuma
Volumes: 10+
Volume 1 Release Date: June 2006
A comedy/drama manga about the turmoils of teaching high school kids. But it's not just any regular school. No, this school teaches the youth of Japan how to serve their fellow Japanese men! The kids, on the other hand, are all from the other side of the tracks, and used to getting in trouble. Is it possible to turn this group of troublemakers into a well-oiled team meant for giving pleasure? Look for volume one this June!

Fairy Cube
Mangaka: Yuki Kaori
Volume: 2
Volume 1 Release Date: June 2006
The latest series from Yuki Kaori, mangaka of Angel Sanctuary. Ian is a boy who can see strange things since he was born, fairies, to be specific. His dad hates him for this ability because his mother claims that she can see fairies, and has left him. In the meantime, there are murdering cases going on, where the victim's back is slit opened, with blood spurting out, they called it "The Fairy Murdering Case". Following these mysteries, Ian ends up in an antique store with a weird guy and a doll... and somehow, he is trapped in the fairyworld and must find a way out...

Love Monster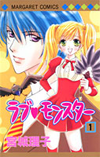 Mangaka: Riko Miyagi
Volume: 11
Volume 1 Release Date: July 2006
After failing the entrance exams to her school of choice, Hiyo Osora gets an acceptance letter from SM Academy. But she didn't even apply or take its exam! When she arrives, there's something amiss -- all the students are... monsters!? And the head of the student council says he's her fiancé right before he sprouts giant black wings! What strange fate brought Osora to SM Academy, and what supernatural fate awaits her after this!?

Freesia
Mangaka: Jiro Matsumoto
Volume: 6+
Volume 1 Release Date: July 2006
In Freesia's Japan, the country is a bleak and grim wreck reeking with the stench of corruption. Caught up in the middle of a war, the government is focused on winning it at all costs and thus citizens are being actively recruited to become soldiers. This has caused the government to allow special legal retaliatory killings. While the law allows a victim to go through with the act of vengeance themself, others decide to a firm belonging to the new industry caused by the Vengeance Act. In these firms, hitmen can be hired to do the deed instead. Freesia revolves around Kano, a young man who works for one of these firms specializing in retaliatory killings. Anyone looking for a manga that combines brutal violence and psychological bantering would certainly do good to check out Freesia.

Ultimate!! Hentai Kamen
Mangaka: Ando Keishuu
Volume: 6+
Volume 1 Release Date: July 2006
After saving a young girl names Aiko from some delinquents, Kyousuke falls madly in love with her. Any resemblance Ultimate!! Hentai Kamen has to a normal love story ends right about here! In the course of saving Aiko from being held hostage in a bank robbery, Kyousuke accidentally puts a pair of woman's panties over his head and becomes Hentai Kamen, a superhero pumped up with horniness and clad in only his tighty whites and, of course, the panties as a mask. From there, he pummels the bad guys and saves the girl, a rescue she's less then thrilled about. Note: This title is non sexual. Hentai translates to pervert, any sexual connotations were tacked on later. The full translation to the title is really Ultimate!! Perverted Masked Man.

Ichigo 100%
Mangaka: Mizuki Kawashita
Volume: 19
Volume 1 Release Date: Q3 2006
Ichigo 100% is about a boy named Manaka who dreams of being a film maker. One day, while heading up to the school roof to think, a girl drops down in front of him. Manaka is so stunned, he cannot remember anything about her except her strawberry panties. In his quest to find this girl, he finds himself confessing to the wrong girl, believing it was her panties he saw. Suddenly, beautiful girls start falling in love with him. Join Manaka in the dilemma of which girl he should pick. Should he accept one of these girls, or keep his love for the strawberry girl?

Fall 2006:
Ao no Fuuin
Doraemon
Gokusen
Hayate the Combat Butler
Ren-ai Shijo Shugi
Rose Hip Zero
Ryuuroden

TBA:
Ares
Bamboo Blade
Fight no Akatsuki
Ja-Dou
Love Catalogue
Love you Only
Luv Clinic
My Sweet Dragon
Open Sesame
Pure Pure
Pansy
Tales of Destiny
Thousand Years of Romance
Toumei Shounen

And that's just the tip of the iceberg, look for more new and exciting new titles from Manganews throughout 2006.
Disclaimer: Please do not distribute our titles online (only we can, through our (patented) Manga-Click! feature), through bittorent, or irc (!list and @find will result in a ban).
___________________________________
Excited? Interested? Have anything to say?
Want to support our war effort? Post this on your site!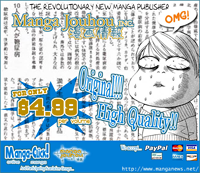 March forward, soldiers of Jouhou!