MangaUpdates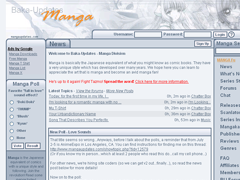 MangaUpdates, like Manga Jouhou and DailyManga, is a scanlation release aggregation website. Like other release aggregation sites, MangaUpdates lists the latest releases of projects, both licensed and unlicensed, from various scanlation groups. Since 2006, the speed with which MangaUpdates reported new releases, coupled with its extensive database on manga and scanlation groups, made it one of the premier sites for scanlation information, and it played a vital role among the newer generation of scanlators.
MangaUpdates, originally Baka-Updates Manga, was a spin-off site of Baka-Updates. Baka-Updates is an anime fansub aggregation site created in 2002 that watches and reports fansub releases. After the successful launch of their anime aggregation site, the staff of B-U felt a need to also cover scanlation releases in order to provide a "complete package" to the community, and they began planning a manga site equivalent to B-U in 2003.
In September 2003, Manick joined B-U. It was then that discussion regarding the new manga site got underway. By May 2004, a preliminary design was made and Manick began working on the new site. According to Manick, the original MangaUpdates took 7 days to code in June of 2004. The site officially launched on July 20th, 2004, on Baka-Updates's 2nd anniversary.
Baka-Updates 2nd anniversary posted by: Platinum|Star

Yes! It's Baka-Updates' 2nd anniversary. It was 2 years ago, on this exact day, that Baka-Updates was founded. We've came a long way since then. All of our hardworks are all worth it because of the tremendous support that we got from you guys. [sic]

As part of the celebration for this year's anniversary, we are announcing the release of our BAKA-UPDATES MANGA.
http://www.manga.baka-updates.com

We hope that this service will be valuable to everyone and that everyone will find it as resourceful as our anime site. Please go check it out and sign up for membership if you are from a manga group.
In the beginning, MangaUpdates faced stiff competition from Manga Jouhou and DailyManga, both of which were already well established in the scanlation scene. Due to its late entry, as well as the less-than-perfect layout (adapted from Baka-Updates's layout), the new site experienced very slow growth. In addition, many members of the team, mostly members from Baka-Updates, were unmotivated, and the site's future was uncertain.
Manick, not wanting to see the young site die a lonely death, took charge and wrote a mIRC script that tracks changes in any IRC channel he is in. Most groups announce their releases in their IRC channels, and Manick's script catches these updates and notifies Manick so he could add the releases to MangaUpdates. Manick joined over 100 IRC channels to ensure that the system would be effective. Soon, MangaUpdates's release section began to shine, reporting releases quickly and efficiently thanks to Manick's script, which still runs to this day.

MangaUpdates soon found its own place in the release aggregation business. Unlike Manga Jouhou, MangaUpdates also reports updates in licensed manga series, and unlike DailyManga, MangaUpdates was geared completely toward an English audience. MangaUpdates grew steadily, and in February 2005, when the new series section was added to the site, its popularity exploded. With the addition of this new feature, the user base of MangaUpdates boomed and the site received over a thousand unique visitors per day for the month of February. MangaUpdates originally required that all new registration of users go through an approval process. Users had to give a reason for wanting to join the site, mainly dealing with adding information to the database or adding releases. As the site grew, however, the system was eventually changed and open registration was adopted.
However, not everything ran smoothly after this. In early 2005, MangaUpdates experienced a series of DDoS (Distributed Denial of Service) attacks that forced the site off its original shared host and on to one of Manick's temporary servers. As time went on, the DDoS attacks eventually stopped. In addition, around October 2007, MangaUpdates received a cease-and-desist letter from a U.S. publisher. After receiving this letter, MangaUpdates removed links to direct downloads of scanlation releases, which turned away many of its visitors. In December of 2005, MangaUpdates moved from Baka-Updates's manga subdomain to www.mangaupdates.com.
By 2007, with DailyManga slowly losing its prominence in the U.S. scanlation scene, the release aggregation scene became a competition between MangaUpdates and Manga Jouhou. Manga Jouhou, while having more support from the older generation of the scanlation community, has increased its focus on its news features over the years. MangaUpdates slowly gained ground on Manga Jouhou because of their fast and accurate reporting of releases. Manga Jouhou's policy of not listing any licensed series meant the site could no longer keep up with a community that produced more and more licensed scanlations. By 2009, MangaUpdates established itself as the premier English scanlation release aggregation website.
Throughout the years, MangaUpdates added various new features to its already extensive manga and scanlator databases and also to its user accounts. Sites such as MangaUpdates and also MangaHelpers, which offers a list of releases with downloads, became important community centers for the new generation of scanlation. Whereas the old group of scanlators ran on a group-centric model, the new scanlation groups embraced these sites that offered information on general listings and scanlation data.